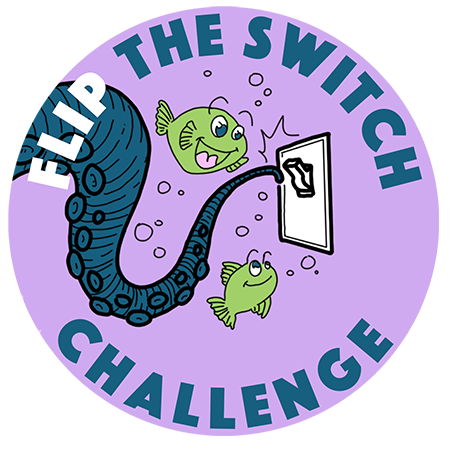 FLIP THE SWITCH CHALLENGE
This Earth Day, Kat kid Adventure is challenging kids to be Energy Savers and Flip the Switch when they leave the room!
Ages: Elementary and middle school kids (ages 5 – 14)
Learners: 10+ learners per session
Time: 40 minutes
Platform: Zoom or in-person (school assembly)
Price: $100 per session/ assembly
To learn about climate change, the major contributors to global warming.

To understand the importance of conserving our world's natural resources and how the small actions we take can have a massive impact on the planet.

To build eco-habits in kids at a young age so they can be better champions of the planet when they grow up.
The Flip the Switch Challenge aims to teach kids how to save electricity — one of the major contributors to climate change — one flip at a time. Kids will get an overview of climate change before learning the importance of conserving resources and diving into the Flip the Switch Challenge: a fun and simple yet effective activity that helps to build an important eco habit at home!
The goal of the Challenge is to get kids to turn off the lights when they room! (As parents and teachers, we know it's easier said than done. 😉 During the course of the Challenge, kids will receive small rewards (digital stickers) as incentives to keep flipping the switch every day. At the end of the two weeks, they'll be on their way to being masters of this eco-habit and will receive their final prize.
To celebrate Earth Day, we have hosted Flip the Switch Challenges at elementary and middle schools in Palo Alto, California.
Computer or tablet with Zoom (if participating online)
After attending the session, kids will receive email instructions to begin the Flip the Switch Challenge. We will also share access to an online daily tracker, so kids can track and share their progress.
We can all be eco heroes! All it takes are some good habits.